Applications for the 2017 Debate Division are now Closed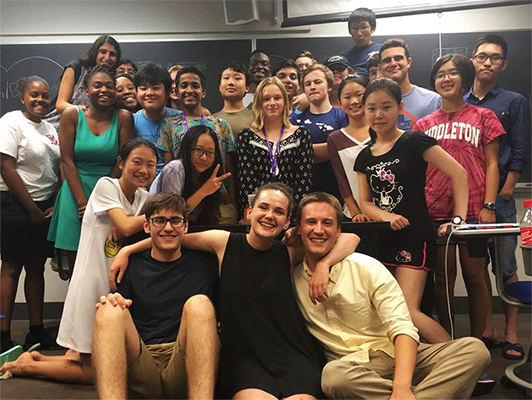 The training I received here in 2 weeks was more than I learned over 2 years at school."
June 24 – July 7, 2017; Tuition: $2,450


2015 Faculty included Jeff Hannen (Director of Debate at Evanston Township HS), and Jonathan Shenkman
This program is for students who compete in, or are interested in competing in, the Public Forum debate event. If you are looking for Policy debate curriculum, please check out our 6-week, 4-week (Residential or Commuter), and 1-week Policy Debate programs. Please note, 2-week Public Forum Debate applicants are not eligible to apply for financial aid through the NHSI.
At this time, we do not offer labs for Congressional Debate or speech Individual Events.
QUALITY LECTURES
Enjoy camp-wide and small-group lectures from Northwestern faculty, college National Debate Tournament Champions and Coaches of the Year.
PRACTICE DEBATES
Participate in more than 10 full-length debates during the course of the summer with a round robin at the conclusion of the institute. Students and coaches can read feedback from every single debate on dedicated web pages through their lab page.
FOCUSED INSTRUCTION
Labs will be capped to guarantee smaller student-teacher ratios.
RESEARCH SKILLS
Learn advanced research strategies from Northwestern debaters and university librarians while you enjoy access to one of the country's best libraries.
SPEAKING SKILLS
Develop persuasive speaking styles that will make you successful for your entire debate season.
ARGUMENTATION SKILLS
Discuss high-level content regarding current policies and international and economic theories as well as advanced concepts.