Applications for the 2018 Theatre Arts Division will be open on Monday, October 23rd
Theatre Arts students choose three electives from a multitude of classes offered by the faculty in specialized areas of study. The elective workshops augment the Core classes and give you a chance to pursue particular areas of interest. Both Core and elective classes give you tremendous opportunity for individual instruction with a teacher-student ratio of approximately 1:8.
The level of professionalism is incredible, and the training is so personal and applicable to the professional world, and just life in general."
Design/Technical Theatre students will be enrolled in stage management and design Process classes in lieu of electives.

Sample Listing of Elective Courses
Please note that not all electives are taught every summer. These are a sampling of electives that have been taught in past summers.
Laban and Viewpoints
Explore kinesthetic awareness and responsiveness with basic principles of Laban and Viewpoints methodology. Learn how to make physically specific choices with key viewpoints components; space, story, time, emotion, movement and shape.
Solo Performance
How does one tell a great story and is there a difference between storytelling and acting?  What makes for a compelling story?  This class will concentrate on the solo genre through personal storytelling while also taking a look at other methods of presenting individual performance.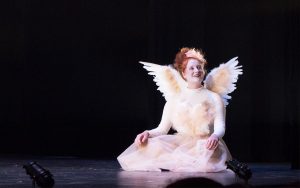 Improvisation
Improv that digs deeper than just jokes – slower long form improv with a strong emphasis in ensemble – learning the art of give and take in a scene-creating real characters and real scenes and then how to use these skills when participating in a more traditional rehearsal process.
Playwriting
This class will be an athletic introduction to launching a new play. Let's tackle the blank page?  We'll look at a wide range of techniques for finding and developing new ideas as we rigorously generate material.
Movement to Music
This is a movement based improvisational and exploratory class. The premise behind this course is to combine physical action with the rhythm of a given musical piece. It helps an actor open to their capacity to form relationships with environment as well as the other movers in their space. Students are forced to live in the moment of action and banish the world "should" by replacing with "impulse".
Working Actor
Moving to town, finding the audition, preparing for the audition, the audition, first read through, rehearsals, opening night, maintaining your show, agents, casting directors, headshots and answers to all the questions you might have about the business of being an actor.
Site Specific Theatre
This class will explore the growing trend of producing theater in non-traditional spaces. We will explore how location affects staging, storytelling, dramaturgy and the audience's experience.
Directing
This class gets to the heart of visual storytelling. We will focus on the art of staging. How and why actors move around the stage is an essential tool in the director's arsenal. We will discover how the images we create on stage reinforce the story being told.
Shakespeare
Students will play with a variety of scenes from an assortment of plays from Shakespeare's canon, looking to Shakespeare's language for the verbal clues that unlock meaning and help the
Stage Combat
This elective will provide an introductory course on character based violence on stage. By the end of the course, students will acquire a toolbox of various falls, punches, slaps, kicks and takedowns.