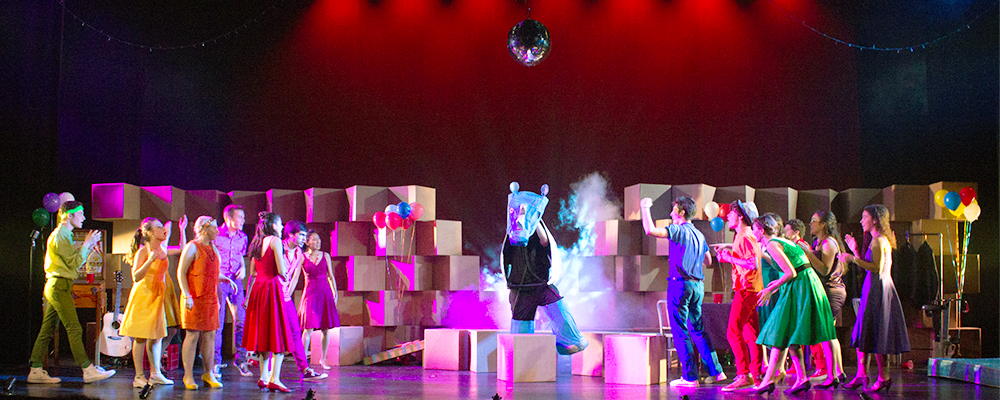 The NHSI Theatre Arts Division is Going Virtual for Summer 2021!
Join us for a unique online learning experience that retains NHSI's extraordinary training and supportive environment in a virtual setting. The program will continue to be an immersive exploration into the world of theatre and will give students a glimpse of the undergraduate theatre program at Northwestern.

Dates
Theatre Arts Program (4 Weeks)
June 19 – July 17, 2021
Design Program* (4 Weeks)
June 19 – July 17, 2021
Musical Theatre Extension** (4 Weeks + 1 Week)
July 19 – July 24, 2021
**Design students are not eligible to participate in the Musical Theatre Extension.
**Students must conclude the 4-week Theatre Arts training before beginning their specialized training in Musical Theatre. Students may NOT just attend the 1-week extension.


What the Faculty Have Said:
The demands placed on cherubs are not unlike the demands placed upon college students (and professional actors). It is assumed that any student entering this program has reached the level of maturity, understanding, and dedication necessary to handle everything that will be expected of him/her."
I believe that there is no other program in the world like the NHSI Theatre Arts Division. This may seem like an awfully tall statement, but given what we offer to the students and demand of them in return I don't believe there is anything comparable."
The NHSI Virtual Theatre Institute will be a condensed version of our on-campus experience. The 4-week Institute will feature: Acting/Voice and Movement classes to develop students' skills; electives including Design, Audition Technique, Playwriting and more; weekly workshops with Northwestern faculty; and ensemble productions created specifically for the virtual space.
What Our Students Have Said:
I also learned a lot about audition technique and etiquette which will serve me well as I audition for college and enter the professional world."
The staff truly made it feel like you were working with professionals, which is what one looks to get out of a program as rigorous as this. At the same time, however, each and every one of them was approachable, willing to exchange advice, and personable in their own right…and that is something not every summer program can offer."
My favorite part of the program was the freedom to explore my art without any limits or hindrances."
A noncompetitive, safe and encouraging atmosphere to learn."

What Parents Have Said:
I want to thank everyone at National High School Institute – Theatre Arts Division summer program for my daughter's wonderful experience. From the moment we arrived, your top-notch staff couldn't have been nicer and more helpful."
The directors and the cast and crew of all the shows were amazing. My daughter's director made a strong impression on her. She learned so much from him and felt he extracted her full potential. She feels she can take these skills and techniques she learned and apply them to her future performances."