NHSI Playwriting Program
Information for Teachers and Schools

John's rapport with our students is magical. He skillfully creates a cycle of respect and good humor that brings out the best in our students and instills a confidence in them to explore their artistic voice freely. His playwriting unit has an excellent reputation among our students and is something our underclassmen look forward to in their junior year. Playwriting has become a very significant interest among our students, thanks to John! – Host Teacher for the Playwriting Program, 2020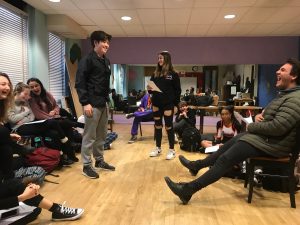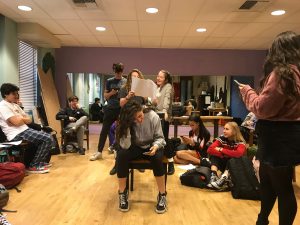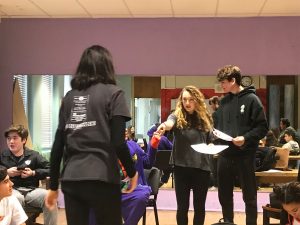 Loved the interaction from faculty and students. Wonderful feedback and great help in developing characters and writing. – Playwriting Parent 2020

Residency Program
Our playwriting workshops introduce students to character creation and dramatic structure through reading short plays and writing exercises. Students will write scenes to explore character, action, theatricality, and dialogue, culminating in a draft of a 10-minute play.
Students will work with a professional playwright/teaching artist who will guide them through the process of structuring their ideas into plays, expanding their creativity and writing skills.
NHSI will work with schools to calendar sessions that work with teachers' schedules and to enhance current educational goals.
Cost for the program: $2,500 for 10 class sessions.
Educators and students who are interested in having this program at your school can contact Jennifer Avery, Director of NHSI at jennifer.avery@northwestern.edu.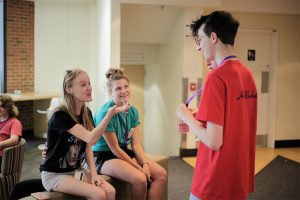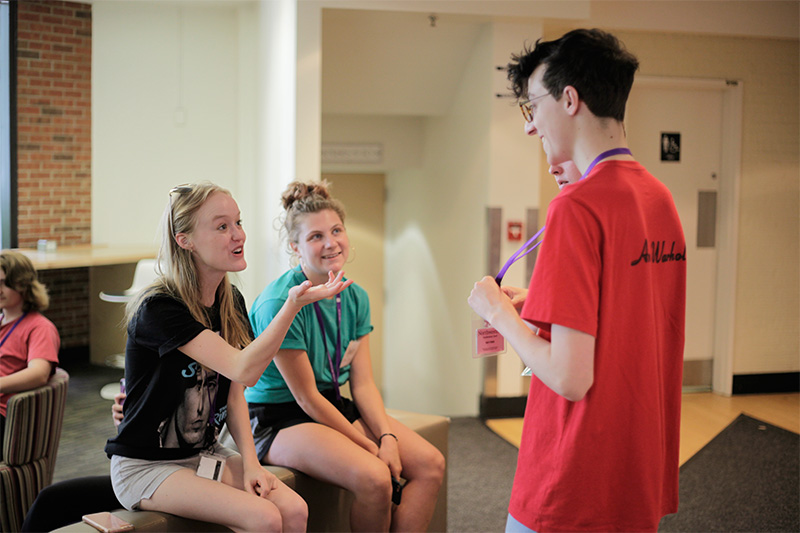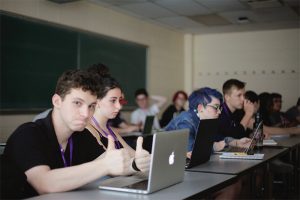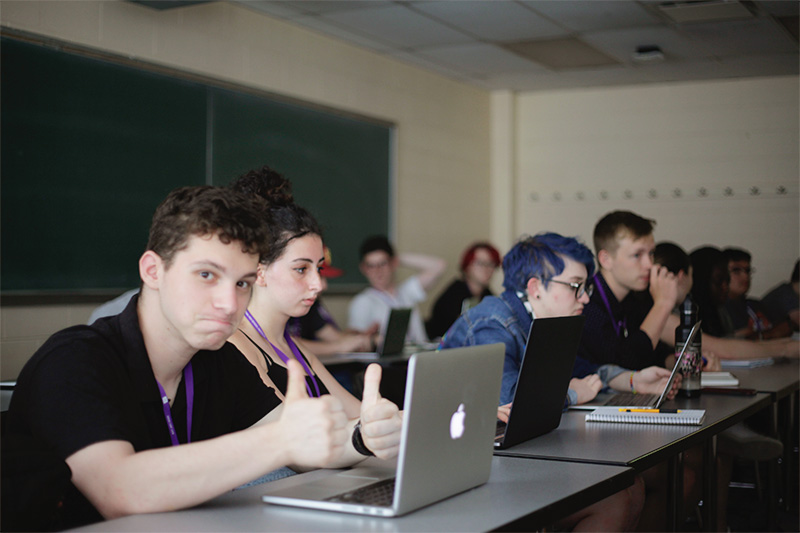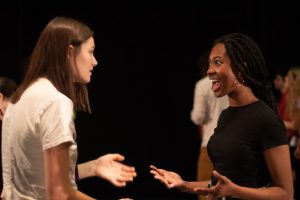 Current participating high schools include:
Evanston Township High School, Northside Prep, Lincoln Park High School, Mather High School, Glenwood North, Lane Tech High School, New Trier High School, ChiArts and Senn High School
Hollywood High School, Beverly Hills High School, Alliance Leichtman Levine, Millikan, Windward, Orthopedic Medical Magnet School, Long Beach Polytechnical, and Alliance Judy Ivy Burton
My students LOVED Ian and this program. It was really great for me to watch him work with the students since writing is not my forte. It gave me more confidence to do more playwriting in my classes and give students more time just to create their own ideas. The students felt supported and free to create. I was so pleased with their experience and their end results. – Host Teacher for the Playwriting Program, 2020
We all love Marcus! He engaged the kids as a group through fun improv and writing exercises as well as giving helpful specific feedback to guide individual playwrights. The kids are both comfortable with him and inspired by his skill, which is a rare gift. This playwriting experience has become of the highlights of our four year program. The connection to the summer NHSI Playwriting program has been motivational to our high school students, and word-of-mouth from my student participants has been very positive. – Host Teacher for the Playwriting Program, 2020

Residency Program Faculty

John Corwin
John Corwin is a Chicago-based screenwriter and playwright. His play Navy Pier was produced in London at the Soho Theatre (2000). Gone Home was produced in New York by Manhattan Theatre Club (2002). Real Hush-Hush was produced by Merrimack Repertory Theatre (2006). John has written for British television, including Night and Day. He is currently developing series for British and US television. He is a graduate of Illinois State University, and teaches playwriting and screenwriting for the National High School Institute, at Northwestern University.

Ian Merrigan
Ian Merrigan is a writer, actor, and composer currently based in Los Angeles. His musical, The Unfortunates, premiered at the Oregon Shakespeare Festival and has had subsequent runs at Joes Pub, Circle X, and ACT San Francisco. On stage, Ian has performed with the Seattle Shakespeare Company, Oregon Shakespeare Festival, Soho Rep, Echo Theater, ACT (at both, unrelated, Seattle and San Francisco theaters), and Circle X. He is currently a featured house team member at the Upright Citizen's Brigade in LA. Televison credits include Quick Draw (Hulu), Crazy Ex Girlfriend (CW), and Room 104 (HBO). Ian has taught writing, acting, and film scoring at Northwestern's NHSI (2013-present), Opening Act (2005-2007), and The Missouri Fine Arts Academy (2010-2016). His music and composition have been featured on Hulu, ABC, NBC, IFC, CurrentTV, KCRW and in various films. He is a graduate of the North Carolina School of the Arts, and a pretty tall guy.

Marcus Folmar
Actor/Writer-Director MARCUS FOLMAR started his career in entertainment as a child nearly thirty years ago in Denver, CO where he booked his first network television job on NBC's Father Dowling Mysteries. Marcus attended Northwestern University in Evanston, IL where he majored in Radio, Television and Film Production and Acting.  In addition to his honors production degree, Marcus received a certificate for the successful completion of The School of Communication's Writing for the Media program.
A working actor and improviser in Los Angeles since '99 and a private audition coach since '05 (www.bookingroomLA.com) Marcus is currently on House Harold team Cheeks at The Upright Citizens Brigade. Upon his arrival in L.A., roles on shows such as Frasier, Malcolm in the Middle, ER and Monk soon followed. More recently, Marcus worked on Ballers, Black-ish, Fresh Off the Boat, and freshman legal drama Bluff City Law.    On the commercial side, Marcus has booked nearly two dozen national spots and campaigns including recent spots for Ally Bank, Best Buy and Xfinity.  In all, Marcus has appeared in over 70 TV shows, films and commercials.
As a writer,  Marcus won Writemovies.com's International Screenwriting Competition in 2002 with his romantic comedy The List.  Starring Wayne Brady, Sydney Tamiia Poitier, and Jane Lynch, The List was produced in 2006 and played at  numerous film festivals before being nationally broadcast as an ABC Family original movie in 2007 receiving  three NAACP Image Award nominations including one for Best TV Movie. With a combined total of over 250,000 views on Facebook, Marcus not only stars in the comedic web series Alley Way alleywayseries.com but also wrote and directed all 9 episodes of the show's first season. Season 2 is currently in post-production.

Dolores Diaz
Dolores Díaz is a Chicago-based Chicana playwright and screenwriter originally from the border city of Laredo, Texas. She is currently developing work with TimeLine Theatre, The Goodman Theatre, and Broken Nose Theatre. In the fall and spring, she will teach at Columbia College and Texas Tech University, respectively. In 2022, Dolores will attend Tectonic Theater Project's Moment Work Institute in New York.
Most recently, her play, The Curse of Giles Corey, was a finalist for the Seven Devils Playwrights Conference and a semi-finalist for the 2020 Bay Area Playwrights Festival and the 2020 Blue Ink Playwriting Award. Her short musical, At Home in Pilsen, was showcased in February 2020 in a collaboration between Chicago Dramatists, Chicago Music Theatre Festival, and Underscore Theatre. Her full length play, Los Tequileros, received a reading from 16th Street Theater in October 2019. Rehearsal premiered August 2019 as part of Bechdel Fest 7 with Broken Nose Theatre and the Steppenwolf LookOut Series and was performed again in October by NoMads Art Collective. Dolores's play, Man of the People, was produced by Three Cat Productions in October 2018. Also in October 2018, Nothing Without a Company (Chicago, IL) premiered Appreciation Day; MOJOAA (Raleigh, NC) presented the play the same month. Performing Arts Studio presented Dolores's work devised using Boal's Theatre of the Oppressed methodologies as part of their Forum Theatre's 2018-2019 season. 
Dolores's experience as a teaching artist includes work with Shattered Globe Theater's Protégé Program and students at Texas Tech's Wild Wind Lab, the University of Notre Dame, and Northwestern University. 
She is a graduate of Northwestern's MFA Program for the Stage and Screen and currently serves as a Dramatists Guild Representative for the Chicago Region.