Director – Theatre Arts Program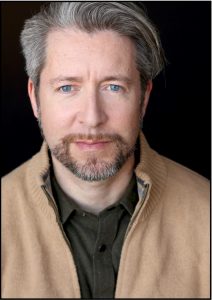 George Keating
George Keating is a theatre actor, director and educator.  George is a longtime member of Actors' Equity Association and appears on Chicago's many stages such as: Paramount, Goodman, Northlight, Chicago Shakespeare, Marriott, Drury Lane, First Folio and Court.  George is co-founder of Theatrebam Chicago and co-creator of the award-winning hit show Schoolhouse Rock Live! and its sequel Schoolhouse Rock Live, Too!.  He appeared in the original cast of Schoolhouse Rock Live! in Chicago, and subsequently for many years on tour and off-Broadway.  George was honored to train in kabuki with Shozo Sato, Royal Treasure of Japan, culminating in a production of the world premiere Kabuki Lady Macbeth at Chicago Shakespeare Theatre.  George received the inaugural Angela Lansbury Award for Best Supporting Actor at the International Mystery Writers' Festival.
He holds a BFA in Acting from The Theatre School at DePaul University, and he is an Adjunct Professor of Movement to BFA and MFA Acting majors at TTS DePaul.
George has served as NHSI/cherubs Core Faculty since the year 2000. He performed the role of Associate Artistic Director in recent years and is now honored to lead the NHSI Theatre Division.  The cherubs history is long and the cherubs community is vast.  George is dedicated to continuing the good work accomplished by his friend and predecessor, Ann Douglas, maintaining many of the traditions passed down by Lynn Baber and working with the current generation to keep the theatre cherubs program going strong into the new decade.  A true teaching artist for the last thirty years, he maintains an active presence throughout the theatrical profession and in numerous training institutions.
Associate Director – Theatre Arts Program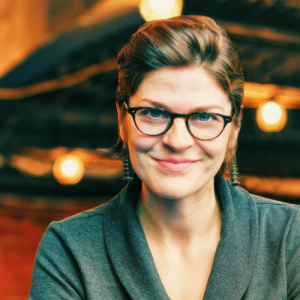 Emily Ritger
Emily Ritger is thrilled to be joining NHSI as the Associate Director of the Theatre Arts Division where she has served as faculty for five summers. Emily is a director, playwright, teacher, and arts administrator based in Chicago. As a teacher and director developing new work, she has worked for The Midwives, American Theatre Company, Redmoon, Cleveland Public Theatre, Northlight Theatre, ChiArts, The National High School Institute, and Carthage College. Ritger's training includes ensemble based work, Viola Spolin Theatre Games, Viewpoints, Puppetry, Contact Improv, experimental writing, and various forms of music.
She is the founder of The Midwives, an artistic development company connecting makers to each other in 9-month, one-on-one peer relationships that support the process of making new work – building a community across artistic disciplines of theatre, visual art, music, creative writing, and dance. Emily received her MFA from Sarah Lawrence College, a BS in Theatre and Philosophy from the University of Evansville, and has trained at La MaMa Umbria in Italy, The Neofuturists, and Paul Sills' Wisconsin Theatre Game Center.